Jesse Richardson
UX designer
Nutrition Challenge Platform
A Project Conducted for SoHookd.com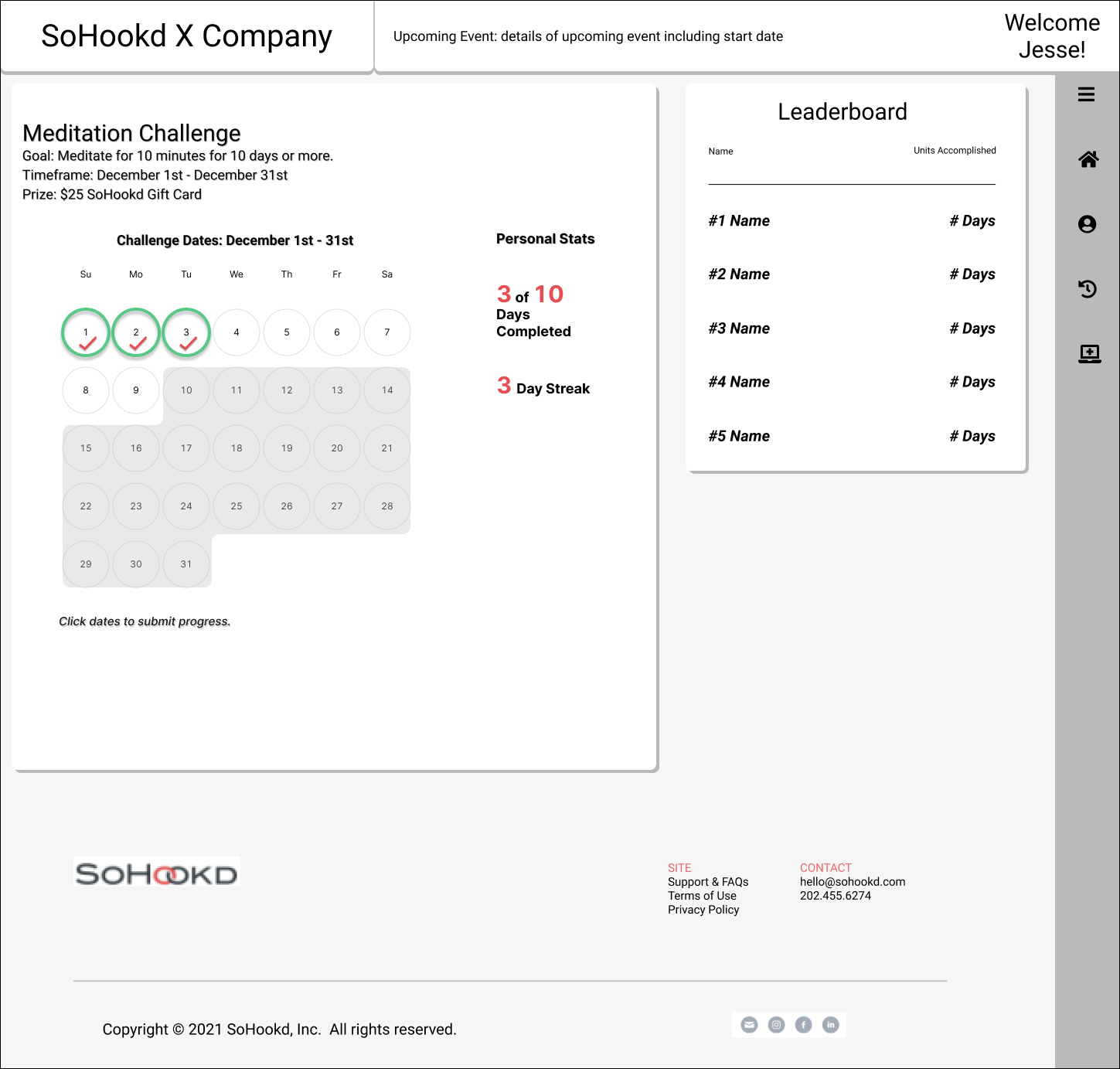 The Baseline
SoHookd.com is a wellness company that offers healthy lifestyle choices as an addition to company wellness initiatives and benefit-networks.
SoHookd's Nutrition Challenge Platform was in serious need of a user-focused redesign.

The user in question is an employee of the client who initiates the challenge.

The goal was to create a dashboard for a participant in the nutrition challenge to easily register, log and track their progress.

Ideally, the new platform would streamline use and increase overall participation, thus allowing SoHookd to retain customers and market this offering to a larger audience.
I worked as the sole UX Designer on this project and collaborated directly with the VP of Product and Operations at this D.C. startup.
Interviews
At the discovery phase of my project, I conducted interviews within the company in order to get a better understanding of the product and its problems.
Goal:
Analyze user problems with the current version

Understand business requirements and expectations

Pull any ideas out that might be developing in the minds of the SoHookd team
Method:
Ask a mixture of specific and open-ended questions during 1-on-1 meetings
Results:
The feedback from executives and employees can be summed up as " We want a simple, intuitive platform that will 'Hook' users on wellness."

A few of the team members also shared some of their favorite platforms from other organizations to use as inspiration.
Benchmark Research
After talking with members of the SoHookd team, I explored some of their favorite platforms and compared them to other industry leaders.
Goal:
Find the major positives and negatives of competitor apps and websites.

Use these insights and inspiration to build a superior platform
Method:
Compare several platforms based on experience, ease of use, flow, data-entry method, information architecture, and color scheme

Make note of innovative designs that can be adapted
Results:
Discovered innovative methods of data-entry

Gained a baseline understanding of what this platform needs to deliver.
Sketches
After analysis of findings from the research phase, I decided to sketch out each component of the platform before building out the entire dashboard.
Goal:
Get a sense of how each element should look and feel.

Visualize and refine ideas to best suit the user.

Create the basis for a testable prototype.
Method:
Sketch each element in Figma

Assemble components to create the dashboard.

Refine to meet the goals of the project
Results:
Sketching was a lengthy process that involved many iterations.

Components changed dramatically in order to create an ideal experience

Two data-entry methods, "Simple Select" and "Submit Button" emerged and were ready to undergo A/B User Testing with interviewees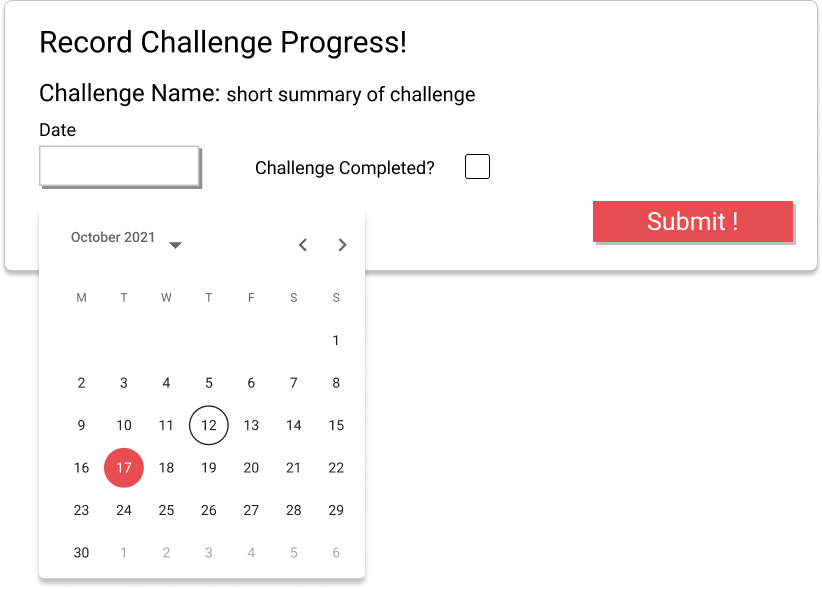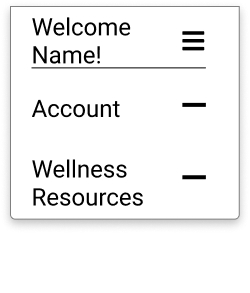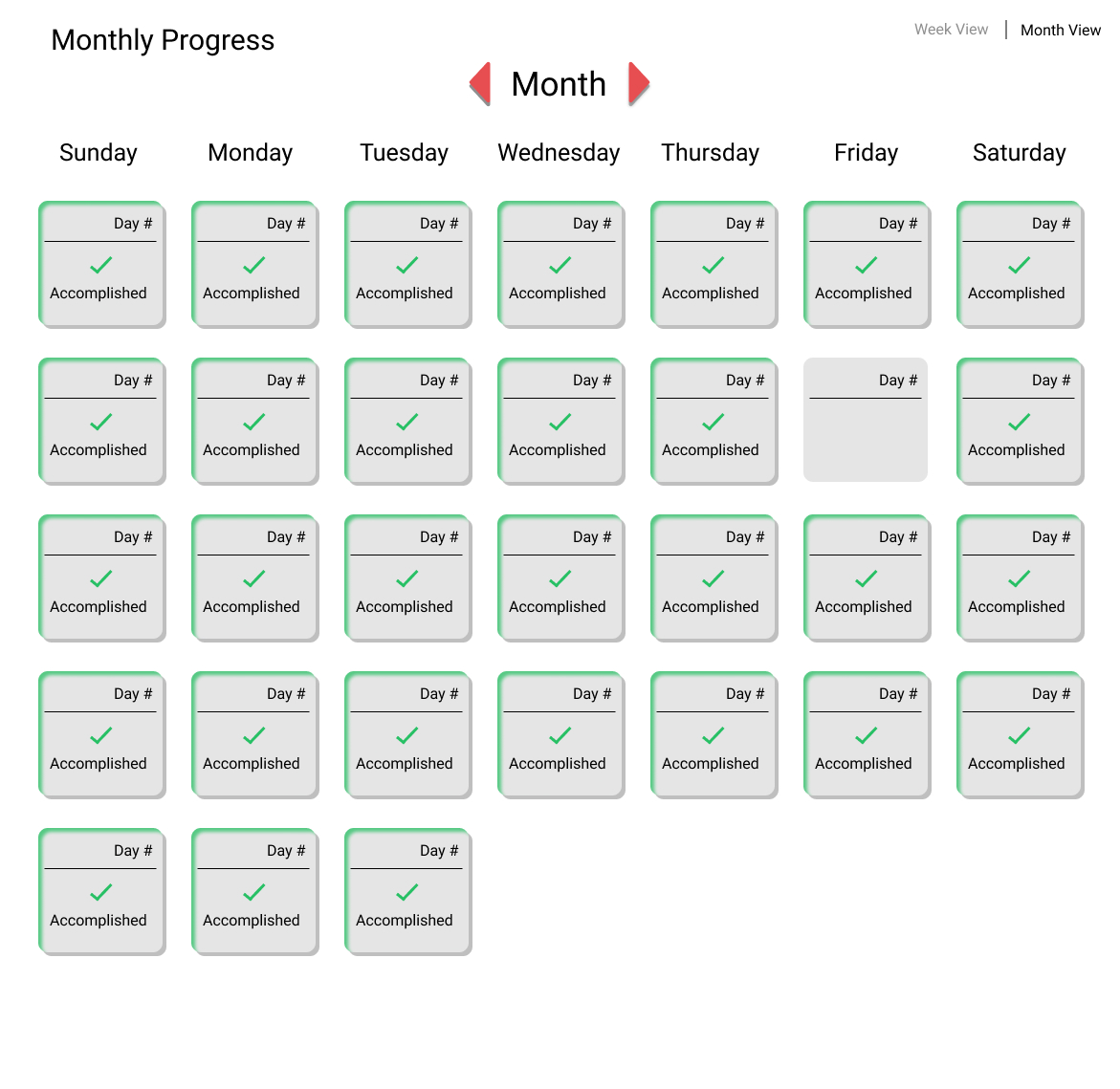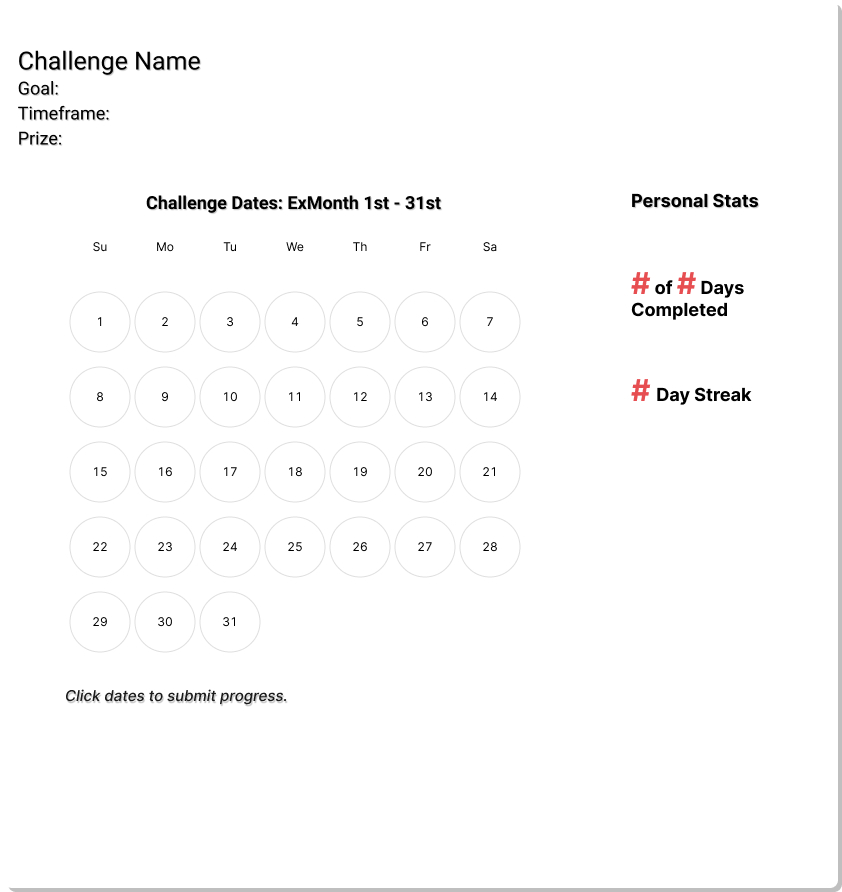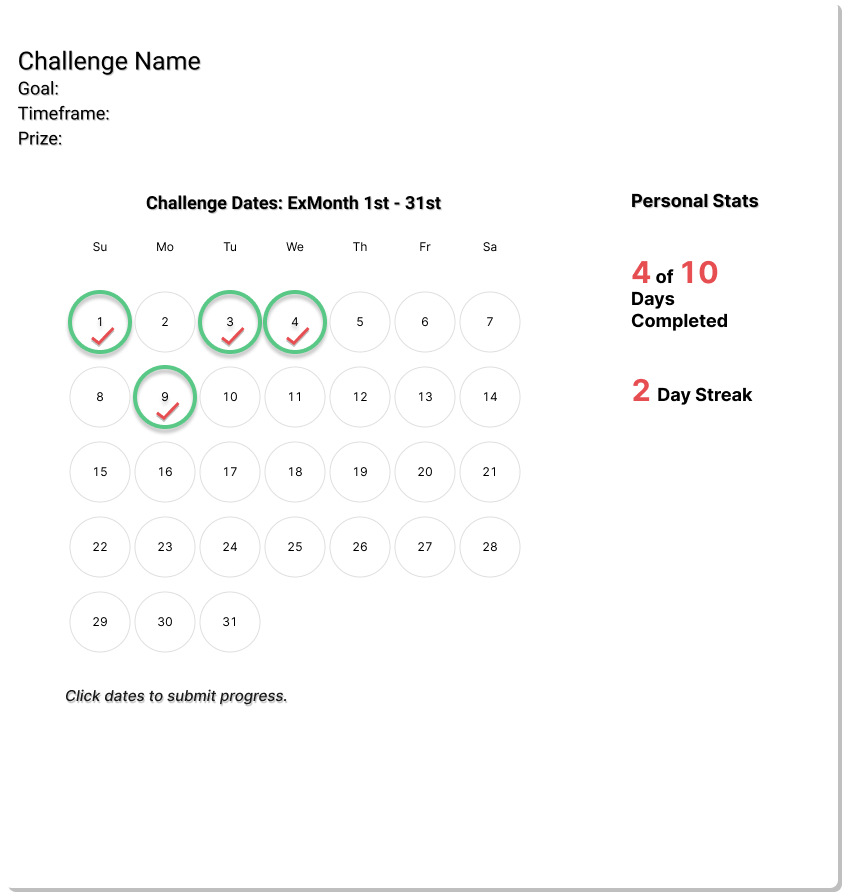 Simple Select
This method of progress tracking allows a user to simply select a date or multiple dates from the calendar in order to record progress. When a date was selected, the Personal Stats section would instantly update to reflect the new submission.
Submit Button
This method of progress entry allows users to select one or more dates from the calendar with a click. Once selected, the user would then see a button appear labeled "Submit Progress". The progress would only be recorded if the user clicked the button, at which point the Personal Stats section would instantly update.
User Testing
Before presenting the wireframes to the team, I used prototypes built in Figma and InVision to test with users in an A/B style.
Goal:
Determine which of the two styles of progress entry works best for the user.

Find other pain points within the designs
Method:
Users were asked a series of screening questions

Following the questions, users were asked to log progress using each prototype and give their impressions and opinions on each experience
Results:
Users overwhelmingly preferred Simple Select over Submit Button

They found that because Personal Stats updated instantaneously, users knew that their progress had been recorded. There was no need for the Submit Button to exist as it only added an extra step
Wireframes
Following the prototyping and user testing phases, wireframes were used to present the design to the team and give developers a clear description of the platform.
Key Takeaways
This project turned out to be a major growth opportunity for me as UX Designer.
Working with executives and stakeholders can helpful and tough at the same

Designs can grow and morph in ways you might not expect

User feedback may surprise you
This platform went into development during Q1 of 2022.